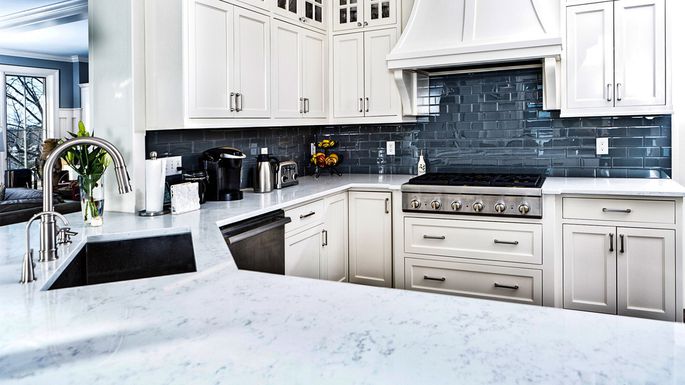 I know my crumb-colored granite countertops are unfashionable, but I'll defend them to the end of time. Their speckled appearance hides fingerprints and flakes of food, and I don't have to be vigilant about wiping down my countertops every single time I cook. I prep, and I move on. No one sees those stray bits of mushroom, shallot, or granola until approximately 11:30 a.m., when the light from the window hits the counters at just the right angle. Then the crumbs stand out in stark, shameful relief. But until then, I'm off the hook.
But while I'm perfectly content with my granite countertops, others see them as the ugly ducklings of the design world.
"I find granite hideous," says Jenn Cole, a designer from Brooklyn, NY. "I don't find the patterns that are typical to granite very pleasing. They remind me of those weird, heavily varnished wood clocks and coffee tables from the '70s."
In fact, people hate granite so much, there's an acronym for their attitude: ABG, or "Anything but granite." So if you're redoing your kitchen and on the hunt for ABG, here are some popular countertop alternatives—and honest opinions from homeowners who have them in their own kitchens.
Quartz: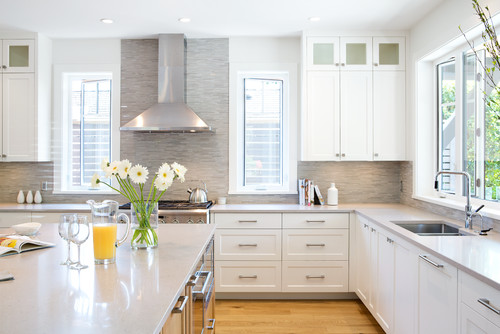 There's no getting around it: People are passionate about quartz.
"We recently traded black granite inherited from the prior owner to quartz, and I'm so happy with it!" says Bettina Elias Siegel, a writer in Houston. She didn't like how dark the granite made her kitchen look, but quartz turned that around.
"I love the super clean, bright look, and it stands up to even the worst stains, like red wine and rust," she says.
So what is quartz? It's a natural stone crushed with pigments and polymer resins and cured to create the ultimate gleaming, easy-care surface.
"White quartz countertops are great because they're super durable and don't share the weakness of natural stone," says Taylor Spellman, interior designer, stager, and co-host of the Bravo television show "Yours Mine or Ours."
"A natural stone is porous and won't stand up to a lot of stains—like red wine—which is a deal breaker for me," he says.
One of the most popular types of quartz is Caesarstone.
"Caesarstone all the way," Brooklyn food writer Matt Gross insists. "It looks nice, is heat-resistant, and doesn't need regular treatment. It's a pretty countertop for lazy people."
Most quartz countertops cost $50 to $80 per square foot before installation, according to HomeAdvisor.
SoapStone: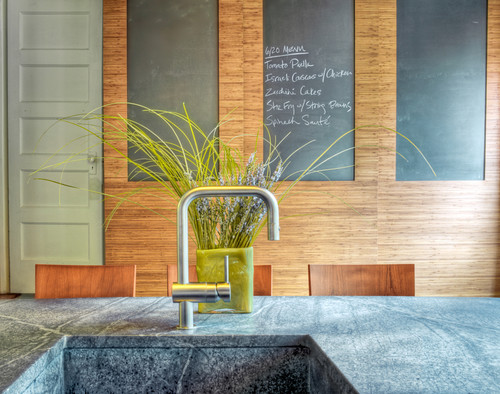 For Larissa Phillips, a farm owner in upstate New York, soapstone is an A-plus surface for the kitchen. You can place hot pans directly from the oven on the counter, and it's flat enough for rolling out pie dough. She also loves the way it looks.
"It scratches easily, but it's not really an issue. I just had to train the kids not to cut directly on it," she says.
Soapstone does require a bit of maintenance and needs to be oiled every now and then to really look its best.
Soapstone can set you back about $70 to $120 per square foot before installation, according to HomeAdvisor.
PaperStone: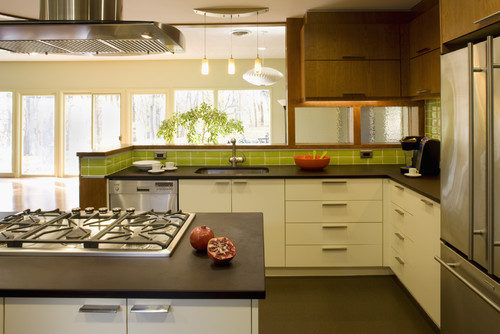 PaperStone is one of the most eco-friendly countertop options out there. It's created with recycled papers and a non-petroleum resin, making it a good option for homeowners concerned with having a green home with LEED certification.
Shelley Rogers, a documentary filmmaker in Florida, loves her PaperStone counters because they are heat- and stain-resistant, nonporous, and warmer to the touch than quartz or marble.
The cost of PaperStone varies depending on the color and size you choose, but you can generally buy it for $50 to $80 per square foot.
Marble: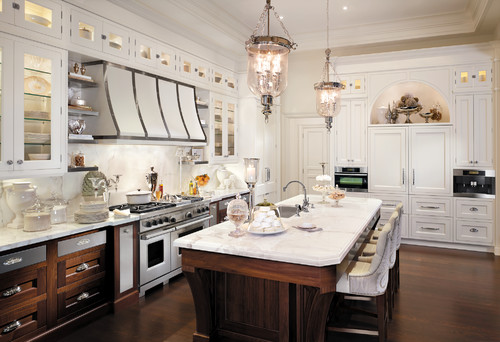 If you have an unlimited budget and enjoy the finer things in life, be sure to check out marble countertops. Compared with other surfaces, they're a splurge at $50 to $120 per square foot. They're also high-maintenance and not very scratch- or impact-resistant. But some people, like Amy Blankstein of Queens, NY, take pride in the way marble wears with use over time.
"It's pretty and I love it," she says. "I'm not overly uptight about keeping it pristine, so it's fairly easy to take care of."
A lax attitude like hers seems to be key, otherwise you might drive yourself crazy trying to prevent stains and chips.
"I just try to wipe up acids as soon as possible," Blankstein says.